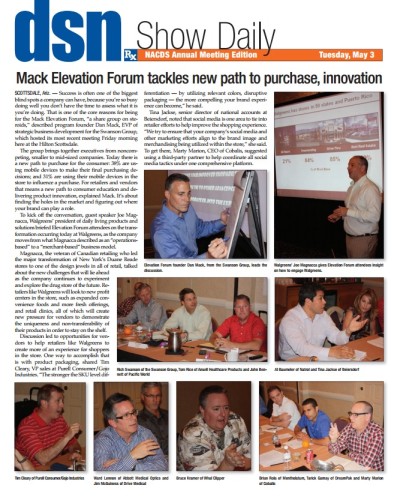 By Dan Mack, Drugstore News
Mack Elevation Forum tackles new path to purchase, innovation
SCOTTSDALE, Ariz. — Success is often one of the biggest blind spots a company can have, because you're so busy doing well you don't have the time to assess what it is you're doing. That is one of the core reasons for being for the Mack Elevation Forum, "a share group on steroids," described program founder Dan Mack, EVP of strategic business development for the Swanson Group, which hosted its most recent meeting Friday morning here at the Hilton Scottsdale.
The group brings together executives from noncompeting, smaller to mid-sized companies. Today there is a new path to purchase for the consumer: 38% are using mobile devices to make their fi nal purchasing decisions; and 31% are using their mobile devices in the store to infl uence a purchase. For retailers and vendors that means a new path to consumer education and delivering product innovation, explained Mack. It's about fi nding the holes in the market and fi guring out where your brand can play a role.
To kick off the conversation, guest speaker Joe Magnacca, Walgreens' president of daily living products and solutions briefed Elevation Forum attendees on the transformation occurring today at Walgreens, as the company moves from what Magnacca described as an "operationsbased" to a "merchant-based" business model.
Magnacca, the veteran of Canadian retailing who led the major transformation of New York's Duane Reade stores to one of the design jewels in all of retail, talked about the new challenges that will lie ahead as the company continues to experiment and explore the drug store of the future. Retailers like Walgreens will look to new profi t centers in the store, such as expanded convenience foods and more fresh offerings, and retail clinics, all of which will create new pressure for vendors to demonstrate the uniqueness and non-transferability of their products in order to stay on the shelf.
Discussion led to opportunities for vendors to help retailers like Walgreens to create more of an experience for shoppers in the store. One way to accomplish that is with product packaging, shared Tim Cleary, VP sales at Purell Consumer/Gojo Industries. "The stronger the SKU level differentiation — by utilizing relevant colors, disruptive packaging — the more compelling your brand experience can become," he said.
Tina Jackse, senior director of national accounts at Beiersdorf, noted that social media is one area to tie into retailer efforts to help improve the shopping experience. "We try to ensure that your company's social media and other marketing efforts align to the brand image and merchandising being utilized within the store," she said. To get there, Marty Marion, CEO of Cobalis, suggested using a third-party partner to help coordinate all social media tactics under one comprehensive platform.
McGuiness of Drive Medical Bruce Kramer of Whal Clipper Rich Swanson of the Swanson Group, Tom Rice of Ansell Healthcare Products and John Bennett of Pacific World.[/vc_column_text][/vc_column][/vc_row]