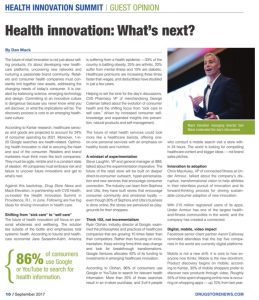 By Dan Mack, Drugstore News
The future of retail innovation is not just about selling products; it's about developing new healthcare platforms, uncovering new networks and nurturing a passionate brand community. Retailers and consumer health companies must constantly knit together new assets, addressing the changing needs of today's customers. It is created by balancing science, emerging technology, and design.
Committing to an innovative culture is dangerous because you never know what you will discover, or what the implications will be. The discovery process is core to an emerging healthcare culture.
According to Kantar research, healthcare services and goods are projected to account for 24% of consumer spending by 2021. Moreover, 1-in-20 Google searches are health-related. Optimization health innovation is vital to securing the heart and soul of the consumer. Retailers and brand marketers must think more like tech companies: They must be agile, nimble and in a constant state of ideation. All companies must embrace risk and failure to uncover future innovations and get to what's next.
Against this backdrop, Drug Store News and Mack Elevation, in partnership with CVS health, co-hosted the Health Innovation Summit in Providence, R.I., in June. Following are five big ideas for driving innovation in health care.
Shifting from "sick care" to "self-care"
The Future of health innovation will focus on personal wholeness and wellbeing. The solution lies outside of the bottle and emphasizes total systemic health. According to futurist and health care economist Jane Sarasohn-Kahn, America is suffering from a health epidemic – 33% of the country is battling obesity, 25% are arthritic, 20% suffer from mental illness and 10% are diabetic. Healthcare premiums are increasing three times faster than wages, and deductibles have doubled in just a few years.
Helping to set the tone for the day's discussions, CVS Pharmacy VP of merchandising George Coleman talked about the evolution of consumer health and the shifting focus from "sick care to self care", driven by increased consumer self-knowledge and expanded insights into prevention natural products and self-management.
A mindset of experimentation
Steve Laughlin, VP and general manager at IBM, talked about the experimentation imperative. The future of the retail store will be built on deeper direct-to-consumer outreach, hyper-personalization and new services that encourage consumer connection. The industry can learn from Sephora and Ulta; they have built stores that encourage consumer community and emotional loyalty – even though 30% of Sephora and Ulta's business is done online, the stores are perceived playground for their shoppers.
Think 10X, not incrementalism
Ryan Olohan, industry director at Google, examined the philosophies and practices of healthcare companies that are growing 10 times faster than their competitors. Rather than focusing on incrementalism, these winnings firms think step-change and look for breakthrough transformations. Google Ventures allocates 40% of its funding to investments in emerging healthcare innovation.
According to Olohan, 86% of consumers use Google or YouTube to search for relevant health information. More than 25% of those searches result in an in-store purchase and 3-of-4 people who conduct a mobile search visit a store within 24 hours. The world is looking for compelling healthcare content and bigger ideas – not brand sales pitches.
Innovation to adoption
Chris MacAuley, VP of connected fitness at Under Armour, talked about the company's disruptive, transformational vision to help athletes in their relentless pursuit of innovation and its forward-thinking process for driving sustainable consumer adoption of innovation.
With 210 million registered users of its apps, Under Armour has one of the largest health-and-fitness communities in the world, and the company has created a connection.
Digital, mobile, video impact
Facebook senior client Aaron Calloway reminded attendees that the top five companies in the world are currently digital platforms.
Mobile is not a new shift; is it core to how everyone now thinks. Mobile is the new storefront. Product discovery begins on mobile; according to Kantar, 30% of mobile shoppers prefer to discover new products through video. Roughly 55% of time spent shopping online now is occurring on shopping apps – up 10% from last year.[/vc_column_text][/vc_column][/vc_row]